From First Contact to CLOSE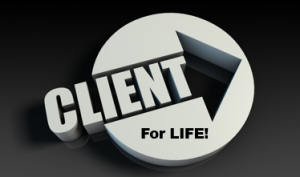 by Real Estate Coach Judy LaDeur
If you are looking to build a referral based business, it starts with the very first contact. Every person that you meet is a potential client, even if they currently know another agent. I always ask everyone that I meet if I can send them my homeowner tips and ideas each month. They rarely say no. A NAR survey showed that 87% of all homeowners surveyed were happy with their agent and would use that agent again IF they could remember their name! That's sad but true. I would say that 9 out of 10 times that I ask someone that I meet who sold them their home, I get the same response. They were really nice, but just can't remember who they are. I have found that repetition of marketing materials, combined with personal contact, is the #1 thing that you can do as an agent to not only have those you know do business with you, but it's also a great source of ongoing referrals.
When I started in the business, many years ago, I was "thrown in" and told to "hit the phones". No one told me what to say or what to do. That has changed, and today's agents have more training than ever before. Here's the million dollar question. If there is more training today than ever, why are so many agents still struggling to earn a living? Perhaps they are not doing the basics. This is a contact business, and if you are not selling or listing a home, you should be looking for someone who wants to sell or list a home. It's just that simple!
What does your pipeline look like? Your pipeline consists of the total number of active listings, combined with the number of buyers that you are working with, plus any prospects that you are currently talking to about listing their home or buying a home. You should have 25 people in your pipeline at all times. How many do you have right now? If it's not at least 25, then it's time to hit the phones!
Once they are your client, stay in touch weekly, providing reports and feedback to insure that they are happy. Most clients want results. Results require honesty. Is the home priced too high? Does it need staging? Our job is to deliver the "tough news" in a way that they appreciate and understand. I picked up many expired listings, through referrals, and each time it was the same scenario. They needed a price adjustment and staging or decorating. They were always willing to do what was asked, when they knew that it was the key to getting their home sold. If they were not willing to do what was needed to sell their home, I was not the right agent for them.
Happy clients are clients for life if you get the job done and stay in touch after the sale. If you are looking for a great tool to stay comfortably in touch, go to www.TheProfitableSalesAgent.com and sign up for our weekly newsletters. They are filled with lots of great tips for homeowners, and simple ways to stay CONNECTED.
If you follow these simple steps and you'll have happy clients from first contact to close, and a source of referrals for life.  You'll end up with a lot of great new friends too!
COACHING TIP OF THE MONTH
MAKE THE CALL 
There are many agents who take the listing and then don't communicate with the seller because they have nothing good to say.  You contact each of your listings, without fail, every Tuesday.  If there has been absolutely no activity, simply tell them that.  Generally though, even though nothing has happened with their particular listing, something has happened in the neighborhood.  Whatever it is, tell them and, if appropriate, discuss a price reduction. Studies show that sellers want lots of communication from their agent, so stay in touch and you will see that they are more likely to work with you to get it sold.