Wise Agents Are BOTH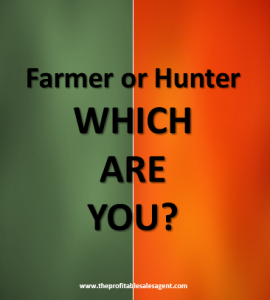 By Real Estate Coach Judy LaDeur
Every agent naturally falls into one category or the other:  Farmer or Hunter.  They are completely different ways of approaching real estate prospecting.  Most agents, are farmers.
Farming is the art of developing relationships with a specific group of individuals, educating them about why they should want to work with you, and being positioned when the time is right for that person to make a change.  A broker or agent who farms assumes, just like a farmer, that if they prepare the soil, plant the seeds, water the crops and take care of the crops until harvest time, that there will be a bountiful crop so the farmer will be able to eat and also feed his family.  Farming is a passive form of prospecting.
Some facts about farming are:
a)     Requires patience/waiting
b)     Takes 6-12 months to fill the pipeline
c)     More than 80% of consumers are emotional customers – so they need a relationship built before they can trust you enough to do business with you
d)     Education, information, and items of value are consistently sent out to gain trust
e)     The goal is to stay positioned, educate them, to gain their trust so that when the time is right and they do have a real estate question or need – yours is the name that is top of mind
Hunting is the art of full engagement. Going after the target, not waiting for it to come to you! The hunter assumes that is he/she is not actively pursuing the target that they will not eat.  Think of the lion. The lion does not sit in the meadow just waiting for his prey to appear, the lion tracks their prey, and pounces on it when the opportunity presents itself.   A Hunter also looks for the prey, stalks it and pounces when they are not paying attention.  A hunter does not assume that the food will just appear on their table. The hunter believes that if it is not out there hunting all the time, it might starve.  The hunter's actions are assertive or aggressive forms of prospecting.
Here are some facts about hunting:
a)     It is a numbers game. Lots of contacts/ fast results
b)     Everyday someone is ready to buy or sell — the goal is to find that person each day
c)     You have more control over the numbers
d)     Instant gratification
Here are some Farming activities:
a)     Mailings to educate them about your company, what you offer, and to build the relationship
b)     Having coffee to build the relationship
c)     Invite them to an event
d)     Personal notes
e)     Calls, just to say 'Hi'
f)      Social media interaction/ comments
Here are some Hunting activities:
a)     Target FSBOs
b)     Target Expireds
c)     Target Renters
d)     Sending mass mailings/media/ email etc. playing the numbers game
f)      Using social media to place ads and target specific groups via Linked In and FB.
g)     Purchase leads
h)    Calling your sphere to see if anyone has a real estate need
If you HAD to get 5 listings in the next 30 days, or leave the business, what would you do?  That is how the hunter thinks at all times!
The Good news is that most of you planted a crop in the spring and nurtured it until now, so you can harvest your crop and also go hunting…
Good luck!
The Profitable Sales Agent can help you with BOTH your FARMING and HUNTING techniques!  Learn more here.  Our Profitable Sales Agent members will find additional scripts, tips, and tools in your membership platform.  Have fun with them!