What are YOU Reading That Can Help You and Your Business GROW?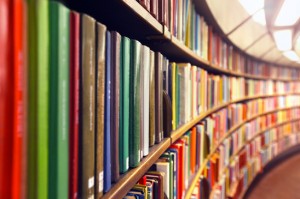 While it is indeed the age of information and words, MP3s, Kindles, iPads, e-books, smartphones, streaming video and more are at our fingertips and downloadable 24/7 via that incredible internet, there is to me, still something to be said for curling up for a 20 minutes to an hour a day with a good old fashioned book.
I know, I know – lives are busy, going warp speed in a thousand directions and mine is no different. Believe me, there is tremendous merit to audiobooks that we can listen to on the go, but there is great satisfaction in building a library of your own that you can tap into and reference whenever possible for strengthening your skills, improving your mind or igniting your spirit.
So, whether you're cracking the spine of a new hardback or downloading a new eBook on your iPhone,  as we head into the new year, I wanted to take the time to share with you just some of the book treasures we've found over the years and challenge you to start or add to a library all your own!
§ Good to Great by Jim Collins – Great for mastering the premise "Be the Best in the world at ONE thing."
§ Little Red Book of Selling by Jeffrey Gitomer – Terrific for short snippets, great ideas and reference-his e-zine Sales Caffeine is pretty good for daily jolt as well.
§ How to Become a Rainmaker by Jeffrey J. Fox – Learning to dollarize is a vital tool in our industry – Jeffrey Fox teaches it well.
§ Purple Cow by Seth Godin – You'll find valuable Lessons in effective marketing.
§ Shut Up, Stop Whining and Get a Life by Larry Winget – We all loved this book. It's as edgy as its title but drives home some must-learn points.
§ Be Our Guest by the Disney Institute – You have to hand it to those folks at Disney – when it comes to customer service – they have it down. Lots to learn here!
§ Swim With the Sharks Without Getting Eaten Alive by Harvey Mackay – An oldie but a goodie when it comes to classic life and business lessons.
§ Never Eat Alone by Keith Ferrazzi – Some great ideas on the power of social and business networking.
§ The Power of an Hour by Dave Lakhani – Time management guru Lakhani explains how to put some muscle into your time management and make those minutes count!
§ Hug Your Customers by Jack Mitchell – We liked this book so much, it became the theme for one of our corporate meetings! Spotlights the power of extraordinary customer service in any industry.
§ The Greatest Salesman in the World by Og Mandino – Truly one of my favorite all-time books. I re-read it often and what's funny is that I have asked countless industry "icons" to name a favorite book throughout the years – almost all of them count this at the top of their list.
§ Think and Grow Rich by Napoleon Hill – Another classic, must-read for anyone who wants to live abundantly and build a better life and business.
§ How to Become a Marketing Superstar by Jeffrey J. Fox – You have to love Fox's books for their quick read and great references.
§ Better Than Good by Zig Zigler – Zig's insight is always a welcome gift as he shares the power of a positive attitude in this game of life.
§ Winning by Jack and Suzy Welch – Delivers a solid career's worth of this legendary leader's management wisdom.
§ Wooden on Leadership by John Wooden – Extraordinary Coach John Wooden shares tremendously valuable insight on what it means to win with integrity in ANY game.
§ Built to Last by Jim Collins – Much like Good to Great, Collins shares the successful habits and visions of some of the greatest companies of all time.
§ Shift by Gary Keller – Keller shares what it takes to not just be a successful real estate agent, but how to truly treat your business as a business and effectively grow it without limitations.
§ Satisfaction by Chris Denove and James D. Power IV – A true spotlight on how listening to the voice of the customer can make – or break a company and career.
§ The Spellbinder's Gift by Og Mandino – This well crafted contemporary parable by Mandino offers tremendous inspiration and wonderful reminders on how to live a better (happier) life.
§ The Age of Speed by Vince Poscente – This offers lessons on how to thrive in a world that runs at lightning speed.
§ Juggling Elephants by Jones Loflin and Todd Musig – A great read for all of us who sometimes feel we need to get our "act" together in the three-ring circus we call life.
§ The Fred Factor by Mark Sanborn – Sanborn teaches us through the true story of Fred – the mail carrier – how going the extra mile and taking the extra steps for our customers can turn an ordinary career into an extraordinary one.
§ Blink by Malcolm Gladwell – Fascinating book that illuminates how we can re-train our minds to instantly pull vital information from life's moments.
§ The 7 Habits of Highly Effective People by Stephen Covey – definitely not the easiest book you'll ever read, but if you can work your way through each of the "habits" and make them a part of your life and career, you'll far exceed any goals in front of you!
§ 10 Ways to STAND OUT From the Crowd by Connie Podesta – This insightful book is filled with the practices and tools you need to always make sure you're invaluable!

I do hope you will enjoy the lessons, laughter and genuine knowledge builders found within the pages of these book recommendations. It has been a fun journey to discover new books, new authors and new additions to my growing library of books for business. I do make sure there is room on the shelves for recreational reading as well, so you'll find James Patterson, Sue Grafton and Patricia Cornwell books all tucked on the shelves next to the books above! After all, "work hard, play hard" can be a good motto for this aspect of life too!
So go and read your mind and expand your personal library for success. I would love your recommendations for our Book of the Month club! Feel free to add yours in the comments!